Ever wondered why your WordPress takes a lot of time while your competitor websites load really quickly? Most beginner website owners have faced this issue before they figure out what's causing this slow load speed. However, this article "Speed Up WordPress" can really help you make your WP site load really fast!
You might be surprised when finding more about the stats relation with conversions and website speed. Do you know that that a 1-second delay in page load time can reduce the conversions by almost 7%? And 53% of website visitors will leave the website if it takes more than 3 seconds to load?
Why Speed Up WordPress?
A quick loading WordPress website can bring in a lot of visitors, provide a good UX, and make conversions or profit which is the main goal of most websites. This happens straight with a speedy website but not on a website that takes 10 seconds to load!
The reasons for why speed up WordPress:
A faster website is a good UX signal, which contributes to ranking factors.
Reduce Bounce Rate which can hurt your Google rankings.
Fast loading website can increase the conversion rate.
These are the main factors why you should consider speeding up your WordPress site of it's not already fast. Now, let's take a look at how can we make the slow website into a quick-loading website by optimizing the WordPress Speed Factors.
How To Check WordPress Site Speed?
Checking the current loading time and speed is really important if your optimizing because you can just compare before and after your speed optimization works. Let's see how you can check your website loading speed with MonsterInsights which is one of the best Google Analytics Plugin for WordPress.
To get access to the Speed Reports by MonsterInsights, install and activate MonsterInsights and go to Insights>Reports>Site Speed from your WordPress dashboard. You can get the overall website speed statistics and load times for desktop and mobile devices there.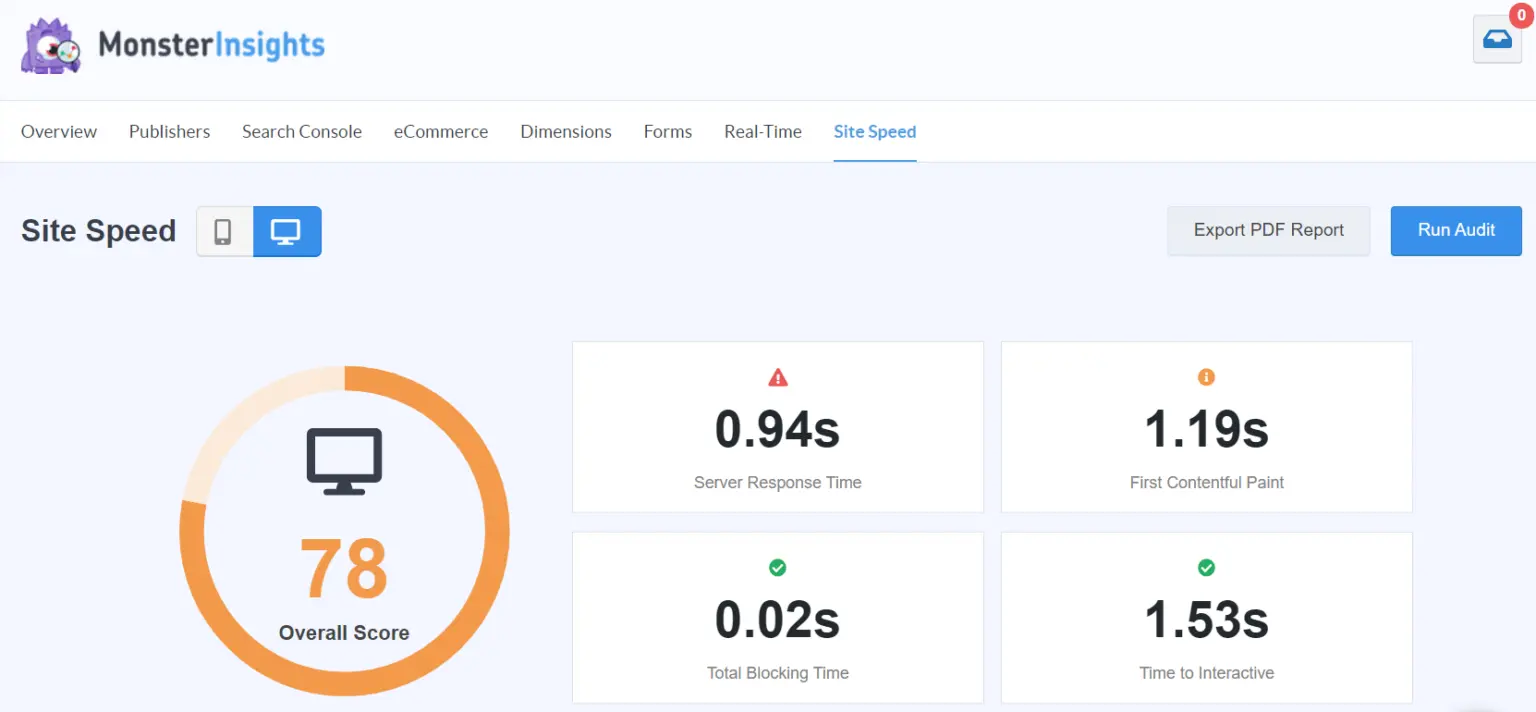 With MonsterInsights Speed Report, you will also get to know why you're site is slow and the places where you can work on to improve the website speed. This is tool is a quick and easy feature of MonsterInsights that doesn't want you to leave the WordPress dashboard to view the data and analytics.
How to Speed Up WordPress?
Let's take a look at the most influencing factors of WordPress Speed Optimization and see how we can really improve your WordPress speed without much hassle. These are the optimization that can significantly boost your website speed to a great extent.
1. Use a fast WordPress Hosting
WordPress hosting is the main factor when coming to Speed Optimizations because it is the place where your files are stored and is being hosted. If the host is slow or not powerful, you could really feel the laziness even in the WordPress dashboard and also when your site loads.
If you're using the right type of hosting that fits your website needs can boost your website speed without any other configurations. We recommend beginners to host their website on Bluehost when starting out as they offer great performance and loading speeds although it is shared hosting.
If your website is really big or wants a much faster website with great speed, moving to Cloudways may be the best option as they are one of the fastest web hosts right now. Although they are priced higher than cheap shared hosting, you can get the power when your WordPress site is hosted on Cloudways.
Take a look at the best WordPress hosting and choose the best option that fits your website needs and traffic count. Make sure your website loads really fast and pick a good web host that offers great performance.
2. Use a Caching Plugin
Using a caching plugin is the next influential WordPress speed optimization technique that will do its work itself. Let's see how caching works and what it really means?
Caching is the process of storing copies of files in a cache, or temporary storage location so that they can be accessed more quickly. Technically, a cache is any temporary storage location for copies of files or data.
A lot of steps are done to deliver the web page to the user, but caching plugins help you deliver pages efficiently by storing the cached version of pages when they are loaded. These cached versions are shown when the user request is made. This allows WordPress to skip a lot of steps in loading a web page that really speeds up your WordPress site.
We have seen our website on WordPress get an instant speed post after using a caching plugin called WP Rocket. We too recommend it as the best caching plugin for WordPress sites. Things are much simpler, install and activate the plugin and you can instantly see the speed boost without any other configurations.
You can also get a ton of optimization options with WP Rocket that you can control based on your website needs to really boost the website speed to a great extent. Getting WP Rocket installed can be given priority if you're planning to really Speed Up WordPress.
3. Use a fast-loading WordPress theme
WordPress themes should be selected very carefully when speeding up a website as they can influence your load times to a great extent. When installing a WordPress theme, you should check if it's fast-loading, optimized for faster performance rather than focusing too much on the visual aspects.
Make sure to select a theme that is clean and simple, also it's better to avoid themes with more animations and complex layouts that make the website too slow to load. Also, focus on the theme developer and check if they're experienced otherwise you might end up getting a poorly coded theme that won't be really fast.
Some of the best themes that are fast-loading and fit for almost all sites are Astra, StudioPress, and Elegant Themes. We recommend these theme developers as they have a good record of powering a lot of WordPress sites and have a good overall score in website load times.
Ideal Configuration for Website Speed
If you're asking to tell directly an ideal setup that should have a faster WordPress website, here's my personal opinion and recommendation on the tools and combination used. You can use any but make sure they are optimized for performance and speed.
I'd love a site hosted on a quality web host like Bluehost (or maybe Cloudways for sites that need much more resources), which has a high-quality caching plugin like WP Rocket and has a clean and well-coded WordPress theme like Astra will mostly have a better, quicker, and efficient website speed.
OR
You can also use other hosts or tools which you believe is having good performance and will suit your website needs. It's completely your opinion to select the right web host for your site.
Conclusion
Website speed is a crucial factor when coming to a business online. With a website that loads too slow, you will lose the valuable audience, clients, or customers and in the end, you'll end up losing a part of the profit which you might have gained if you have a fast website.
With these important speed optimization tips, you can implement and do a speed test to find out how well these tips worked on your site. You can use MonsterInsights Speed Reports to find out the improvements and further suggestions on where to improve.
Overall, WordPress Speed Optimization is something really important and should be given priority as Google is giving more focus on ranking websites that provide an overall good UX, and website speed is really a great UX factor to focus on!